Under the new allergy law, the FALCPA labeling requirements apply to sesame products and any pre-packaged food products containing sesame. All products containing sesame seeds or items derived from them will have to be explicitly labeled after Jan. 1, 2023.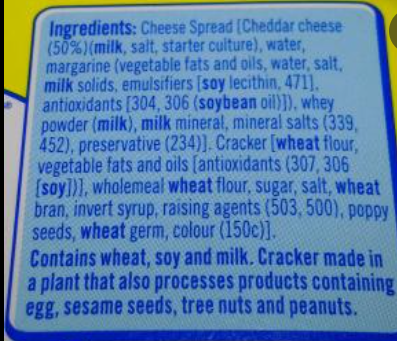 Sesame is often used when a label reads "natural flavors" or "natural spices," adding another layer of difficulty when consumers review product labels at their local grocery stores.
Accurate labeling of sesame will be essential, as undeclared allergens are the leading reason for recalls of FDA-regulated food products.
With the new legislation, retailers and suppliers offering products that contain sesame will be faced with the following problems:


How to find out which and how many of their products will be impacted

How to find out if it is a "hidden ingredient"

Sesame can be a hidden ingredient in foods in places such as "spices" or "natural flavors." It can also be found in health and beauty products such as skin cream and lip gloss, natural supplements and medications





How to determine if there is cross contamination of sesame on production lines

How to manage complexity - since allergen relabeling combined with other rebranding and repackaging products, creates project complexity
Trace One can help retailers and suppliers
Trace One
Trace One knows your challenges inside and out, as we are intensely specialized in retail and CPG. We spearhead a powerful global retail community at the heart of the industry ecosystem. Unified on one platform, our systems connect, streamline and organize data, teams and networks. This allows brand owners to overcome complexity and grasp the opportunities at every stage of the product lifecycle.
Trace One Network Compliance Module
To determine how big the sesame issue is in your product portfolio, Trace One offers within the Trace One Network Compliance Module, the ability to create and send flexible product surveys to your supplier base. The product surveys allow for simplified and faster communication with your suppliers through data collection via questionnaires regarding risks regarding hidden allergens.
Trace One Product Lifecycle Management (PLM)
Our PLM solution covers every stage of the product lifecycle. It lets brand owners collaborate, smoothing the way to get remarkable products into consumer's hands more quickly. Our PLM solution includes 3 modules: Project, Specification and Pack.
Trace One Project Module
Trace One Project Module allows retailers to target a specific supplier and have all the products updated. Project includes the development and execution of a short workflow to coordinate supplier and regulatory teams to ensure deadlines are met. Trace One Insights interactive dashboards monitor the workflow progress and anticipate bottlenecks.
Trace One Specification Module
Trace One Spec module is a collaborative solution between the retailer and supplier and captures comprehensive data regarding raw material, recipe, and own-brand product specifications and limits number of errors. This is possible with pre-centralized data created by suppliers, glossary-controlled data, and embedded data validation rules. Validation rules ensure the input of all the product information is accurate. The specification module is highly flexible since we can make configuration changes via front end administration without waiting for a software release. For the new sesame allergen regulation, there are 4 sections which can help to monitor and track the use of sesame within the product specification, including the "Recipe / Formulation," "Allergens," and "Claims," and "Packaging."
Recipe / Formulation:
Building of the composition with component glossaries can help to reveal hidden sesame ingredients, since it identifies components that might be derived from sesame automatically. Additional data on each raw material such as origins, suppliers, and attributes can also be captured.
Allergens:
For each product specification, all allergens (including sesame) are listed. The supplier is required to record if the product "contains," "may contain," and "cross contamination" along with the addition of comments for all allergens. Comments are mandatory whether the allergen is present or if there is a possible cross contamination.
Claims:
The Claims chapter has an automatic list of claims that will appear once the questions and allergens declaration have been recorded. This is an added feature and allows for the claims to appear in the packaging copy.
Packaging
Pack copy / Product specific reports can be generated from the specification to display the labelling information ingredient lists, nutrition lists and allergen lists. This ensures the relabelled packaging is correct and speeds up packaging development.
Trace One Insight Module
The Insight module offers ongoing monitoring of data with interactive dashboards from the Product specification and Project Management modules.
Allergen Dashboard
The dashboard "Allergens" provides a view on allergens declared in products. It can be used to track specific allergens, including sesame & check consistency against product categories. In addition, you can track the evolution of sesame as a component or raw material over time to monitor the reduction of the allergen over time.
Composition Dashboard
With this dashboard, retailers can search for any product that contains a specific raw material, for instance, sesame and the dashboard will also indicate if there is any missing data, including raw materials.
Conclusion
Trace One provides purpose specific solutions for the food industry bringing multiple benefits to brand owners who need to react to a dynamic legislative environment… If you are interested to learn in more detail and possibly a demonstration of our software, please feel free to contact us.

Lisa Bahmann-Röcher
lisa.bahmann-rocher(@)traceone.com