Enabling supermarkets and consumer goods manufacturers to develop quality, effective products meeting consumer expectations is the core business of Trace One. We offer software and online applications designed to facilitate collaboration between stakeholders across the agribusiness sector, and to support development and product lifecycle management.
Trace One took things up a gear two years ago, aiming to further improve its tools, products and services with innovation and technology. The first thing we did was to launch a free marketplace platform, Trace One Marketplace, allowing manufacturers, distributors and suppliers to increase their visibility and showcase their product portfolios and expertise. In early April, "Insight for manufacturers" - a new free Business Intelligence offering - gave manufacturers improved access to their data. Alongside these two initiatives, Trace One is working on launching a software suite to give our clients easier access to data, such as consumer labelling data, for example. And we are taking things even further, making a new version of packaging reduction management, recyclability and eco-design available online.


Whereas the Trace One marketplace platform allows manufacturers, distributors and suppliers to increase their visibility, identify innovative products and showcase their product portfolios, Insight is completely different in that it relates to the data.
Trace One Insight brings added value and new functionalities to manufacturers, especially suppliers, who are already using Trace One solutions and have a reservoir of data exchanged with supermarket clients going back years. With it, information already exchanged with a retailer for an established business sector can be analyzed from different business angles. Manufacturers can then access their data, identify anomalies and opportunities for improvement and act on the products they share with supermarkets. This is where Trace One Insight really makes sense. And, of course, another aim is to offer manufacturers even more good reasons to use our solutions.

Major benefits of the new Insight offering
First of all, it's free. Second of all, there's access to data. In addition, it's user-friendly, pre-defined examples guiding the user. Users have real-time information and of course the associated benefit of being able to improve their products in terms of nutrition, allergens, Nutri-Score, etc. All of this lets them respond better to the requirements of their retailer clients and consumers. For example, when there's a media uproar over a coloring, consumers decide to boycott the product. The manufacturer must react pretty fast to remove the substance. It's easy to search Insight for all the products that contain it. The manufacturer then knows which product needs to be reformulated and can refresh the database. The result is a rapid fix, answering consumer expectations.

How does Trace One Insight work for the manufacturer?
The user comes to a screen displaying a series of area-based dashboards that they can filter by client names. Insight has 5 free dashboards for the following areas: Raw materials, allergens, Nutri-Score, a dashboard for manufacturing sites and certification and lifecycle for the signature of a product specification. These 5 dashboards feature numerous graphics, with the option to filter, extract data, receive notifications and share the data. We have also worked on making it user-friendly. So, we have put an emphasis on pre-filtered user scenarios. Our aim was to make access to the data as easy as possible.
There is also an expert level that allows you to combine several filters, extract, reprocess, compare and cross-refer data, etc.

A major area for Trace One in 2020 has been the opening up of data.
Opening up data is another thing that Trace One is working on, i.e. solutions for improving the exchange of data required for our clients' businesses and keeping consumers informed. The question is: how do we ensure that data collected by our clients with their suppliers is truly standardized, meaning that it can then be migrated to e-commerce websites, applications and comparators, etc.? Only a few years ago, this data was collected for internal needs. With the INCO Regulation and the arrival of consumer applications, there's been an acceleration, and we now need to provide solutions that are linked to the standardization of data and its circulation outside the systems of distributors and consumer product manufacturers.
For us, Trace One Insight is the first stage of opening up at data level.
We're also working on a wider opening up of data on the Trace One suite through a series of API standards enabling our clients to use their data easily. We've already made a major API available, enabling our clients, the distributors, to access their product labelling data addressed to their consumers.


The need for greater data standardization and capacity to migrate the data
Manufacturers and retailers have been exchanging data on Private Label products for years now, but the data was collected for ensuring smooth product development processes.
Except for price data, it wasn't intended to go anywhere else. There was a minimum amount of data on the packaging but that was it. Over the last few years, the INOC Regulation has started to standardize and regulate consumer information on packaging and websites and other online information. The second leap forward in terms of data was the development of e-commerce websites, online product comparators and all the product comparison applications for smartphones. These applications use a lot more data than before: composition, origin, nutrition, growing and rearing conditions, etc. Dozens of notations have been developed, all clearly calling for greater data standardization and capacity for migrating the data.
Stakeholders in the consumer product sector with data in their own systems for their own needs are now taking steps to ensure that it can be migrated. Since its inception, one of Trace One's main aims has been to standardize product data. We are now working towards providing our clients with effective tools for supplying data to e-commerce websites, databases that then go on to supply consumer applications and APIs.

Trace One is now a verifiable and verified open-source database
That's why we're opening up our applications to data that is designed to travel and keep consumers informed. In addition to the existing Trace One standard, our data is now compatible with the GS1 universal standard, and we have just gone into partnership with ConsoTrust, which provides data certification. This enables us to provide our clients with a database that is reliable, secure and certified, standardized and ready to travel, almost in real time, keeping consumers informed. The idea is also to make it possible to use the database to feed other systems, avoiding data loss, errors, service provider intervention and also saving time. One of today's pitfalls with consumer applications is that their databases aren't refreshed. With these applications, manufacturers have put a lot of effort into improving their products but, if data can't travel, no one is aware that they have made improvements to their products. That's why it's very important to them, and therefore us, to be allowed to use their source of fresh, reliable data with standardized, verified data that travels everywhere and easily, allowing them to showcase their innovations, improvements and brand policy as quickly as possible.

Trace One is also working on data entry
The aim is to develop solutions for increasing automatic data entry, either importing it or connecting with ERP tools that manufacturers may already have in place. Plus, moving the Trace One data standard to the universal GS1 standard provides a common denominator for data exchanges, making for easier data exchange, because everyone is speaking the same language.

Amongst our latest projects, Trace One has just launched a new version of packaging reduction management and improvement online.
We've been working on Packaging for a couple of years and Trace One has developed a specification for this. We've just put the new version of this product online. The standard has been updated, and it's in phase with the latest packaging management requirements. We're the first publisher to offer software for managing packaging data. Initially, this data was handled in a secondary way with product data.
Packaging is becoming a major issue, so we saw it as important to up our expertise in this area, improving the management of all packaging data. We therefore separated the data from the product area, creating a packaging data management solution with a specification system that makes it easy to collect and validate data from manufacturers and track all related information: types of packaging, coatings, colors, etc. After that we can manage all the reduction, improvement and eco-design aspects.
We've worked on this with our clients with reference to the National Pact signed by distributors and manufacturers.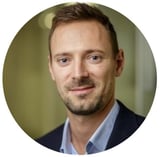 Antoine Daviet
Product Marketing Director