Pre-pandemic private brands trends in the U.S.
This is remains less than other regions like the UK and EU where we see 40 – 50%, so prospects for private brands growth in the US have been and remain very solid.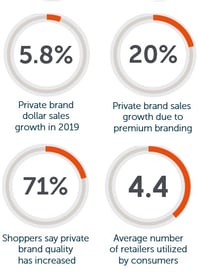 20% of sales growth in private brands came from products that were branded as premium, trendy, organic, or artisan.
About 41% percent of consumers wanted to see more better-for-you products and 44% wanted more unique product attributes.
Retailers and manufacturers took the opportunity to build basket size and margin by focusing on high quality private brands and premium-tiered product categories. This remains the case today.
In fact the perception of quality in private label products has been increasing year on year…. albeit slowly. Almost three-quarters (71 percent) of global respondents said store-brand quality had improved over time. The old view of low price low quality driven by poor economic conditions is now long gone. Although price will always remain a driver of purchase intent among the majority of global respondents (70 percent), quality must always remain a focus.
An average of 4.4 retailers were utilized in 2019 by the typical grocery shopper. That's an increased from 4.1 the previous year. Clearly there is low consumer loyalty within the grocery market generally. The store format varies from convenience to mass merchant to primary grocery depending on the purchasing occasion.
What's changed for private brands in 2020
Life amid COVID-19 has forced U.S. consumers to adopt new behaviors, dramatically impacting how they shop, work and go about their daily lives. Trips to the grocery store are now once weekly trips to buy essentials and stock the pantry for home cooking. And, vulnerable consumers now rely on online ordering and delivery services they were once reluctant to try.
Online grocery sales have grown by 40% so far in 2020, with nearly 80% of Americans using some form of eCommerce for their food beverage, and essential products needs. This level of growth was not predicted to materialize for a decade.
While ways and methods of shopping have changed, we also see changes in the brands that are being purchased. Data from Catalina, IRI, and Neilson all confirm that consumers made a shift to private brands during the initial weeks of the pandemic, and that many of those consumers continued to choose private brands once the "panic buying" phase of changing behavior was over.
First-quarter store brand sales increased 15%, or about $4.9 billion, over the year-ago period, while unit volume grew 13%. What we have seen is 10 years worth of product trails in just a few months.
The most recent research from Catalina however, points towards a reversal in this trend towards private brands.
"Though the pandemic has brought store brands roughly 75 million new shoppers, national brands are once again investing in promotions and the gains private brands made has all but disappeared".
The challenge for private brand retailer has been the same since the pandemic began. How do you retain the consumers that have tried store brands for the first time. The biggest opportunity for retailer private brands lies with the natural and organic seekers who are changing their overall buying patterns. Catalina's research has found that "strong" and "very strong" natural and organic seekers have been attracted to private brands for the first time.
To take advantage of this opportunity retailers need to think about the product attributes that meet the demands of this consumer segment, and how to strategically market them, not just with one-off campaigns or discounts.
Consumer demands in 2020
Both pre and post pandemic data tells us that private brands is a market with fantastic opportunities for growth and margins. The trends that were important in 2019 are still very relevant today.
Sleek packaging, higher quality, lower prices and better-for-you products will keep consumers latched on to your private brands, particularly in the Millennials and Gen Z demographic. These trend-focused generations also care more about the environment and their budgets, and appreciate the nicely designed packaging that store brands offer. They shop online frequently, and are willing to try new things.
Tie all of this in with fickle brand loyalty, and you have your target private brand consumer. The shift of consumers of all generations to private brands during the pandemic demonstrates a market that's willing to try unfamiliar brand banners and new products.
Attracting consumers, pandemic or not, means that you need to adopt the trends that are important to them through marketing and honest communication. U.S. grocery retailers and wholesalers have previously been reluctant to invest heavily in private brand, but this is changing now that the market leaders have demonstrated substantial growth through marketing dollar spend, and made their products destination drivers.
Some examples are:
The desire for a healthier lifestyle and diet.
Reduction in the use of plastics and other packaging that negatively impacts the environment.
Eco initiatives such as lower carbon footprint and wastage, and ethical claims like Fairtrade, palm oil sustainability, Fair Working Practices.
Concern on household cleaners regards specific components and California Prop 65 statements.
Specialty diets like plant-based, Paleo, and Keto are on the rise and this means that consumers are really starting to study food labels
Cleaner labels with simple designs and ingredients statements with simpler formulations that people recognize are also hot topics.
Grocers must continue to find new ways to keep their products in the limelight, and continue to build strong offerings to take advantage of the recent gains in new consumers buying their private brands.
Find your differentiator to make your product remarkable… to make you stores destination-worthy.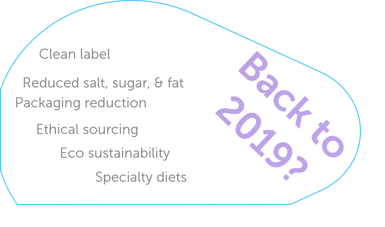 All of these trends are based on one foundation…. Honest and substantiated disclosure… i.e. TRANSPARENCY!


What is transparency?
When I say transparency you will immediately think of a complex web of suppliers, and block chain technology to understand it. While this remains important for many reasons, what I am actually referring too here is Product Transparency.
In fact, lets call it what it really is. It's about being HONEST.
These stats come from a publicized study by Futerra and the consumer goods forum. TRANSPARENCY AND THE HONEST PRODUCT.
70% of consumers are only interested in transparency about the product they are buying…. They don't care about the image of the company who made the product. That's not to say that corporate image and CRS isn't important…. There's still 30% of consumers that are do care, and companies policies towards employ and consumer safety in the wake of the coronavirus pandemic can clearly influence a shoppers choice to visit a store.
55% of consumers say they need more product information on social, health, and environmental attributes…. Yet 76% of corporations think they already provide enough transparency. There is a disconnect here!
Consumers want more information but businesses aren't reacting fast enough.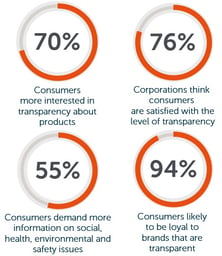 Have you seen what Intermarché and Microsoft are doing to tackle this disconnect though a cloud based master data that allows shopper to customize what data they see about products to help them make a choice? This is a great example of offering greater product transparency.
The vast majority of consumers are more likely to stay loyal to a brand that provides product transparency and is honest with them. Consumers are willing to pay more for these products,
which means a potential increase in margins by simply changing the packaging statements.
The study goes further to challenge retailers to think of their products as a persona. If your product was a person what attributes would you like to see in them:
Offers unprompted information that's in your interest
Has a reputation for honesty
Accepts responsibility when things go wrong
Accepts and shares their limitations
Keeps their promises (or explains why they can't)
Says what they think and believe
Between corporate responsibility and brand affinity – PRODUCT PROOF (HONESTY) is the missing ingredient to drive consumer trust & loyalty.
Taking private brands beyond the label
The FDA requires only five basic pieces of information on a food label: product identity, net contents, nutrition facts, ingredients/allergens and a signature line with the processor's contact information. But this really does represent a minimal amount of product information, and doesn't work for retailers to drive consumer trust in their products.
The big issue is that space on any label is limited and product developers need to prioritize. This means you need to go beyond the label if you want to provide the kind of product transparency and honesty that will influence consumers to choose your brand.
Lucky only 36% of consumers expect to see honest and transparent product information on the label….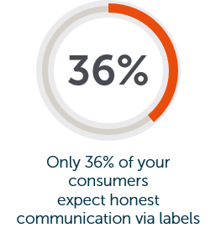 The rest are open to other means of communication, which of course means mobile devices.
They have revolutionized the way we shop. Online shopping sites are one example. The issue is that these are not always the easiest mediums for consumers to find additional product information on mobile devices while shopping in store. Mobile applications like SmartLabel are another example, and remain highly relevant today.
The objective of SmartLabel is to provide information to consumers in a standard format so that its easy to understand. The FMI/GMA are starting to see real traction now with over 67,000 products listed, 50% of which are private brands.
Maximizing your transparency impact
So which additional product attributes should or could be promoted to take advantage of these online platforms?
Additional formulation disclosure helps to build Product Proof.
Where a products ingredients come from is not only important to instill trust, but it can also help a consumer in choosing a product based on their values. Here's a few examples:
What processing aids have been used, is there any seasonal changes in country of origin or ingredients?
Additional substantiated claims regarding the organic or GMO status of the ingredients not just the overall product.
If it's an animal derived product how was it treated.
Additional marketing and romantic copy helps to build Brand Affinity. These attributes help the consumer identify with the brand. Some typical statements are listed below:
Dietary claims, recipes, serving suggestions, and the best way to use, prepare, or care for a product.
Social claims like charitable donations.
Information about the packaging and how to best recycle or responsibly dispose of it.
Finally additional Supply Chain information can demonstrate Corporate & Social Responsibility. A lack of CSR can lead to bad press, lost customers, and falling share prices. Ask yourself these questions:
How ethical and sustainable is the supply chain?
Have pesticides that harm wildlife been used, or can you prove they haven't?
What are the emission and waste levels at the sites of manufacture?
Where does this information come from?
Some of it from your marketing and regulatory teams but mostly from your suppliers and the supply chain, and this information needs to be validated, substantiated, and shared if you want to achieve product honesty.
Achieving product honesty
with Trace One
Isn't it our duty as socially responsible corporations to be honest with our consumers and stakeholders?
Do you have visibility into the origins of your products and their ingredients?

How ethical are the companies you work with?

Are you making all necessary efforts to reduce your impact on the environment?

Are you open and transparent with your customers?
I hope the answer to all the above is "Yes", but what's the cost to your business to commit this level of responsibility?
For me corporate responsibility and product transparency needs to start at the end goal definition. What I mean by this is, what are the promises you want to make and how are you going to prove you are keeping to them.
Trace One provides unique role–based dashboards, trend analysis, and open integration that lays the foundation for transparency through the organization and on to your customers. That's your end goal, but there is a journey to get theirs.
You need to manage your data, and much of it will need to come from external sources.
Trace One supports brand owners in the task of centralizing product and corporate responsibility data, with a suite of modular solutions and templates that make working with your partners efficient and cost effective.
You don't need to increase your teams head count or request internal IT resources.
Growth requires change. Change requires commitment.
Can your private brands program afford not to adopt practices and solutions that focus on product proof, brand affinity, and corporate responsibility?

Don Low - Solution Consultant
Over 12 years industry experience working with some
of the biggest retailers in both the US, UK, and EU.